Astronomy Picture of the Day
Discover the cosmos! Each day we feature a different image or photograph of our fascinating universe, along with a brief explanation written by a professional astronomer.
July 17, 1995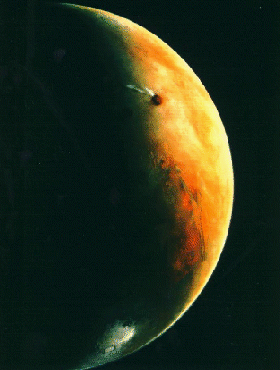 Barsoom
Picture Credit: NASA,Viking Project
Explanation: "Yes, I have been to Barsoom again ..." begins John Carter in Edgar Rice Burroughs' 1913 science fiction classic "The Gods of Mars". In Burroughs' novels describing Carter's adventures on Mars, "Barsoom" is the local name for the red planet. Long after Burroughs' stories were published, Mars has continued to capture the imagination of science fiction writers as a popular location for extraterrestrial adventures. This dramatic picture of a crescent Mars was taken by NASA's Viking 2 spacecraft in 1976.
For more information about Earth dwellers' efforts to explore Mars, see The Martian Chronicle.
---
We keep an archive of Astronomy Pictures of the Day.
---
Astronomy Picture of the Day is brought to you by Robert Nemiroff and Jerry Bonnell . Original material on this page is copyrighted to Robert J. Nemiroff and Jerry T. Bonnell.